---
Novembre 2018 : Theatre workshops with Jeremy James
Seconde students had a seminar workshop on « Macbeth », Première students on « Rosencrantz and Guildenstern are dead » and Terminale on « The Tempest ».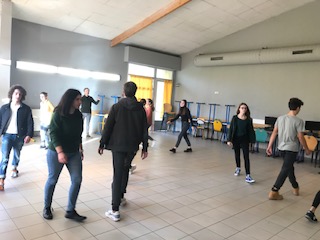 Novembre 2016 : Theatre workshops with Jeremy James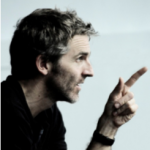 Jeremy James, having worked with the Théâtre du Soleil under Ariane Mnouchkine for several years, now travels the world directing plays and doing workshops for actors and other theatre directors.
Jeremy made some workshops with all OIB Première classes on Waiting for Godot  (December 2016)
Jeremy made a seminar and workshop for Terminale OIB students on Deception and Duplicity: Performing Evil in Shakespeare (December 2016 )
Play with William, or William plays with you?  Here is a quizz for you.
11 May 2016:  Shakespeare festival
As part of our Shakespeare festival, we very much wanted our students to be able to see the Footsbarn Theatre Company perform their new production 'The Incomplete Works', which offers a cabaret-type celebratory mix of Shakespeare's famous characters  (more).
A not to be missed occasion !  
April 2016:  get your Shakespeare Anniversary T-shirt  
(more)
2012/2013: projet humanitaire pour le Bangladesh
En 2012/2013, dans le cadre d'un projet humanitaire visant à aider une école au Bangladesh, Mme HACKENHEIMER a encadré la production d'une épopée de la mythologie hindoue, Ramayana.