OIB Duby delegation's visit to London Model United Nations for High School                                               November 25th & 26th 2018
London International Model United Nations Students 3rd Annual Conference was Lycee Georges Duby's 2nd attendance to date. It was yet another strong conference for our 11 delegates:
Vanessa MERVEILLIE, Axelle ORLANDO, Chloé DESCHANEL,  Lise  GATTI, Iona FOURNIER-BROWN, Lilly PATTERSON-AUGST, Lina BOULKOUT, Emilie ALQUIER, Erine LELLU, Leelou VAUNOIS, Danaé FISHER.

The conference was hosted at King's College of London at Waterloo Campus which was a short walk to the well known Strand District, where Christmas markets and decorations were well underway. This was again a perfect conference for all of our delegates, both experienced in conference debate, as well as for our newcomers. Mrs. Bretelle, Professeur OIB and Mrs. Byrnes, President of Agessia, accompanied the delegates to London and for both of the conferences days.
The opening Ceremony was hosted by Secretary-General, Alfie Jenkins, and along side of him his extensive LIMUN:HS Team, as they were all mourning the very sudden and tragic passing of their very close friend and Deputy Secretary-General, Daniel Paige only 2 weeks prior to the conference. In light of this difficult event, the Conference organizers and team managed all of the details without any hiccups and we felt that they honored Mr. Paige's contributions to the event through discussing it openly with all of the participating delegates. The event remained extremely upbeat and very fun.
The first guest speaker, Mr. Dan Plesch who is a scholar of international affairs, with a focus on security, human rights and the United Nations, is based at the School of Oriental and African Studies (SOAS), University of London. He is both an accomplished author, important contributor to several newspapers, being The New York Times and The Guardian, to name a few. Mr. Plesch's speech pressed greatly on the history of our wars and weighed heavily on "learning from the errors of the past" with the present delegates leading our nations into the future.
Claire Barnett spoke very poignantly and passionately about the United Nations' role with, today more than ever, Women's Rights. Ms. Barnett is a business strategy consultant and gender equality activist. She serves as an interim director of UN Women UK. She was instrumental in the launch of a campaign to end violence against women and girls called DrawALine (https://drawaline.org.uk).
The 11 delegates must be applauded for their thorough and fully engaged investment during the preparations, as well as during the conference itself. Brava! Congratulations to Emilie Alquier, who represented China on the United Nations Educational, Scientific and Cultural Organization, debating Safeguarding cultural heritage in conflict zones, was awarded Most Distinguished Delegate.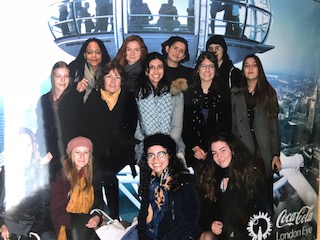 Julia Byrnes, Nov.2018