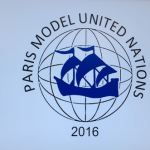 Nine of our students attended the Paris MUN weekend conference between the 19th and 21st November accompanied by Sylviane LAGET-DROP and David LEWIS(Agessia co-ordinators).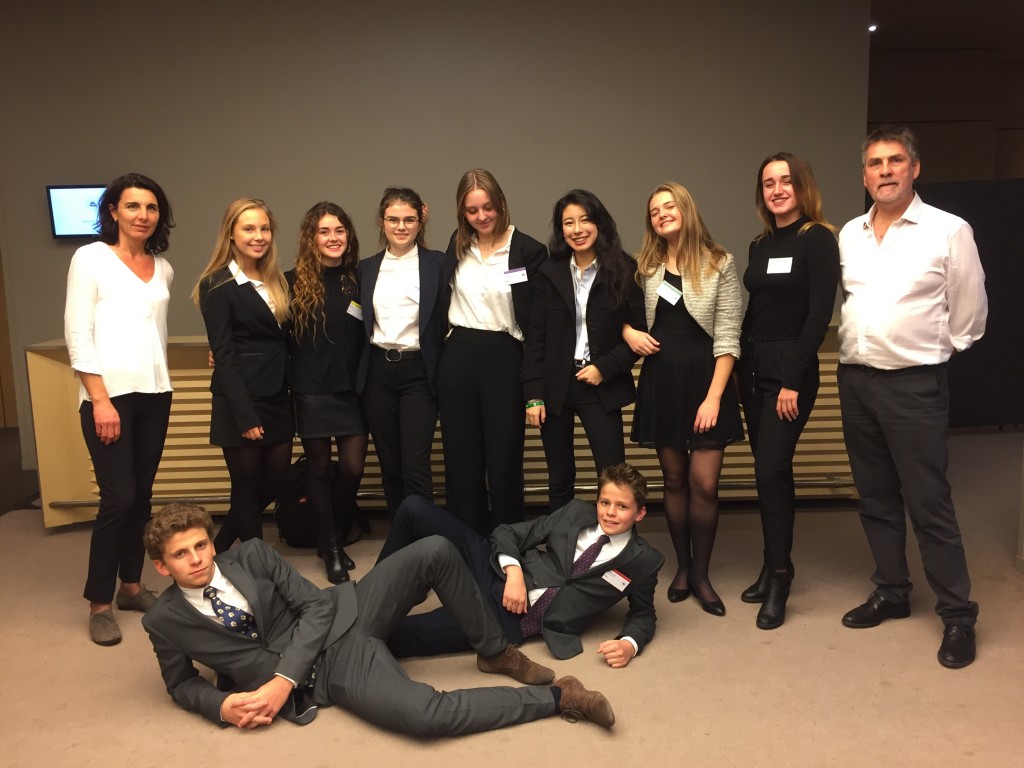 At this annual simulation of the United Nations, each student (Premieres and Terminales) was designated a committee after selecting a country he/she was interested in discovering and representing at this forum (please see below for those who took part). During the weekend, our delegates spoke on behalf of Burkina Faso or Nigeria.
After an inspiring address from  Sarah Camboge, the conference's UN secretary general (« our earth is brimming with chaos »and « our dedication to our responsiblities – including the responsibility of tolerance – is being tested as never before ») our delegates debated and voted on clauses and amendments in order to forge and then pass as many resolutions as possible in their committees.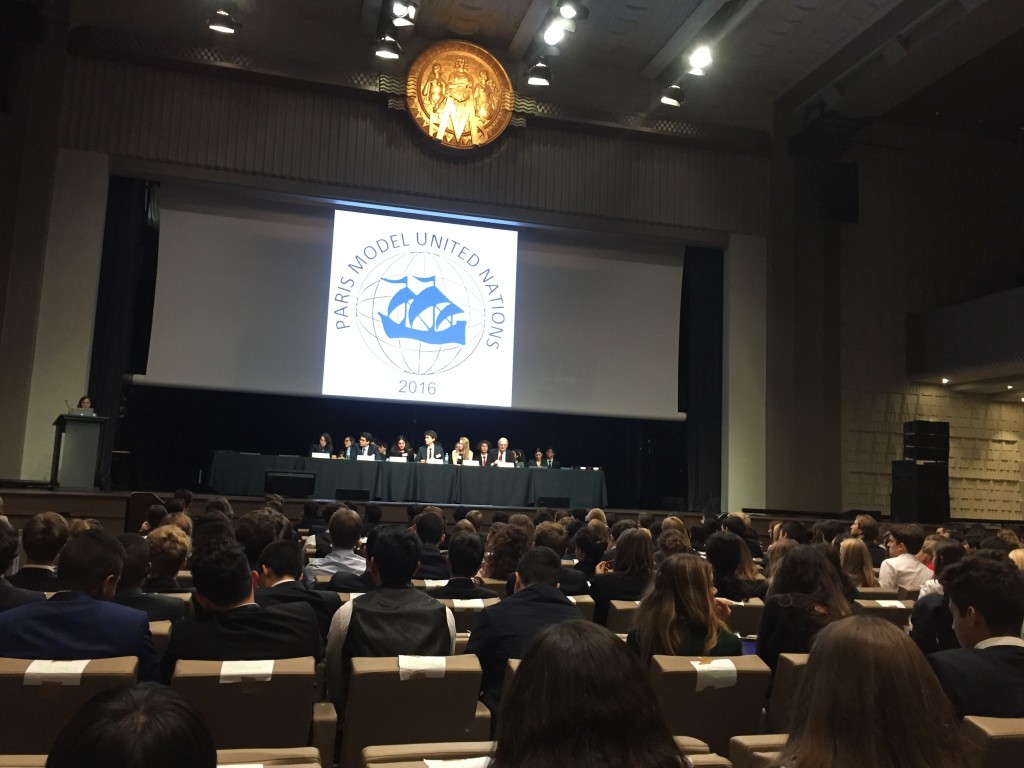 Topics ranged from the use of civilian and military drones to the rights of the Sahwari people of the Western Sahara, from the future of 'smart cities' to monitoring the use of biotechnology. The conference venue was the Palais de la Mutualité in the 5th arrondissement and the staff there served much needed coffee and croissants during the breaks !
On Monday morning, all 800 delegates (from 56 schools from all over the world) came together  for the General Assembly which looked at how the United Nations can combat 'Corruption in Aid'.
Closing the conference, the PaMUN Director, Mr Ouriel Reshef urged the delegates to ask themselves and then act on the three questions posed by the philosopher Voltaire:
1)       What can I believe ?
2)       What do I know ?
3)       What should I do ?
Thank you again to Catherine Chavane (Agessia treasurer) for researching and then booking the well run and welcoming hotel which is in walking distance of the venue. Next year PaMUN returns to the refurbished UNESCO building.
Thank you also to all our students whose engagement was impressively mature and whose company was delightful, be it around the conference venues or during our evening meals at the pizza and sushi  restaurants close to our friendly hotel. You can see photographs and post-conference interviews with some of our delegates on the AGESSIA website.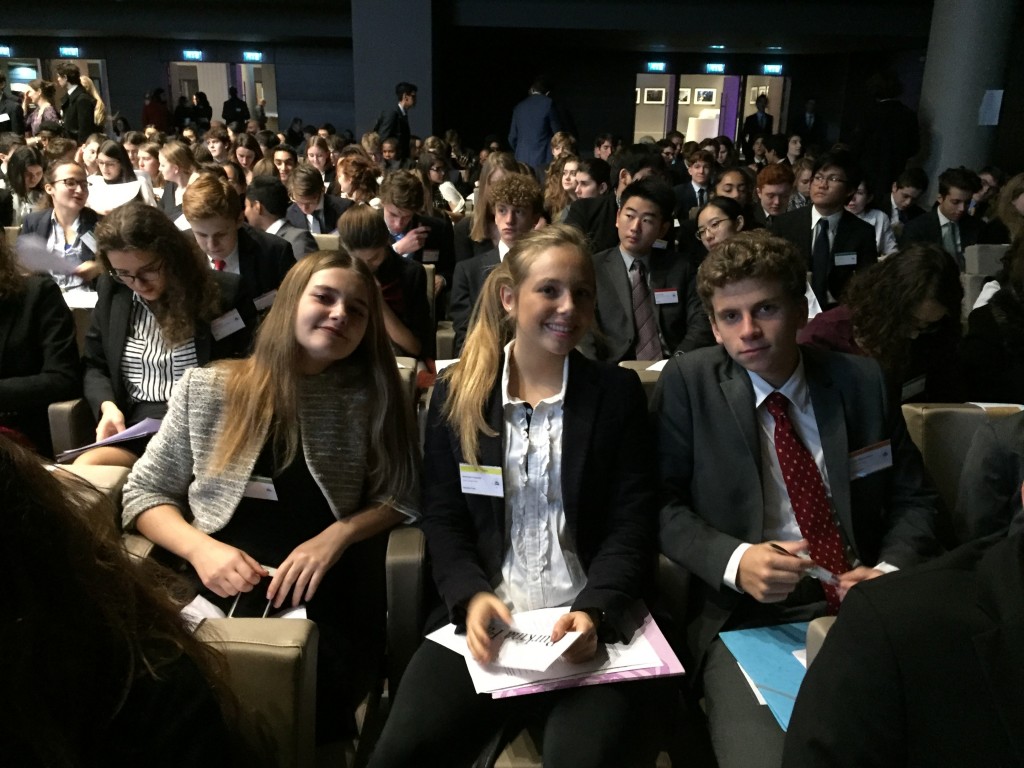 Each delegate received a certificate of MUN attendance. The list of Lycée Duby delegates who participated this year follows :
Lisa BARRAU (Environment Committee)
Erin COYLE (Special Conference on reconstituting the UN Charter)
Eve FRASER (Political Committee) ;
Krista GARCIN (Environment Committee)
Elia LOVY (Human Rights Panel) ;
Camille MALERBE DERAM (Economics and Society Committee) ;
Lucia RODRIGUEZ BAI (UN High Commission for Refugees)
Anastasia TORJUSSEN (Human Rights Panel)
Alexander WHITE (Disarmament Committee)
David Lewis, 30.11.16.