Participation in Cambridge University Model United Nations : Friday, 8th – Sunday, 10th November 2019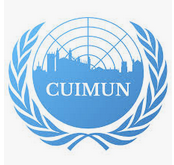 Organised by AGESSIA and accompanied by Mme Byrnes and David Lewis, a Section Anglophone delegation of 12 Terminale students attended the XXV edition of the Cambridge University MUN (CUIMUN) which was attended by one other high school from India and by many UK university students (including delegates from the London School of Economics, King's College London and the University of Kent).
Our students did the Lycée Duby OIB Section proud with their regular contributions to committee debates, based on sound knowledge of the issues being discussed, gathered in advance of the conference – preparation always being the key. At the awards ceremony, held in the famous Cambridge Union debating chamber, our delegation picked up a commendation and two honorable mentions.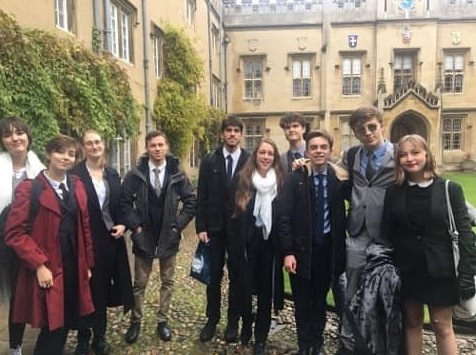 The theme of the conference was 'Progress in an uncertain world' and CUIMUN 2019 opened with a speech by Lord Jay of Ewelme, GCMG ( holder of the Grand Cross of the order of St. Michael and St. George). The former British ambassador to France and current cross-bench member of the House of Lords, presented « the state of the world today – in 15 minutes ! » The guest speaker posed many challenging questions : «  Extinction Rebellion is pricking our consciences but will real action follow ? » ; « what are the implications for war in the age of drones ? » and « how do you govern countries in the internet age ?» Lord Jay advised the assembled delegates to «take nothing for granted. Multilateral organisations need to be protected and strengthened ; the United Nations – and especially its peace-keeping forces – has never been more important.»
The committee rooms were held in numerous Cambridge University colleges and these included Jesus, Corpus Christi and St. John's. The stunning architecture and the fine interiors of the college rooms all contributed to a great atmosphere. Our students acquitted themselves admirably and were not daunted by the level of debating required in the committees they sat on ; a list of these and our delegates follows. Well done everyone !
Global Health Cluster : Emilie DELFORGE (who represented UNICEF was also our delegation's Head Delegate).
Historical Crisis Committee : Nadia GOLOTCHOGLOU rôle-played as Maria I of Portugal and was attached to the British cabinet ; period studied was the Napoleonic Wars).
Council of the European Union : Gabriel FRASER represented Austria.
UK-EU Negotiations Committee : Alexander PONZO represented Denmark as member of 'the accession bloc'.
Historical Security Council : the Iranian Hostage Crisis of 1979 : Achille GAZAILLE represented Bolivia.
International Court of Justice : Anouck LALAUZE represented the People's Republic of China.
Economics and Finance Committee : Thomas JOGAND-COULOMB represented Belgium.
Disarmament (DISEC) Committee : Emilie ALQUIER represented Afghanistan.
UNHRC (Human Resources) Committee : Nino LAFFRAY represented Belgium.
World Health Organisation Committee : Vanessa MERVEILLIE represented Australia.
UN Women's Committee : Angie HENON represented Botswana.
Environment Committee : Crosby BYRNES represented Algeria.