ILYMUN (Lyon) conference : Thursday, 30th January – Saturday, 1st February 2020
Fourteen Lycée Duby OIB students made up our delegation to ILYMUN 2020. This was the 8th edition of ILYMUN – the annual debating conference held at the Hôtel de Région –  jointly organised by the Cité Scolaire Internationale (CSI) and the International School of Lyon. The theme of the weekend was « Water : A Thirst for Change. » In 2015, the United Nations adopted the Sustainable Development Goals and set targets for 2030. ILYMUN focused on Goal 6, 'clean water and sanitation' and Goal 14, 'life below water.'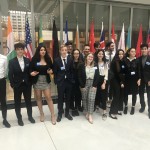 There were 11 committees and delegations present from France, Israel, Khazakstan and the United Kingdom, 28 schools in total.
A feature of each ILYMUN is the list of excellent guest speakers, experts in their fields, each of whom addresses a committee, takes questions, presents a crisis scenario for the delegates to debate solutions and then returns to review the conclusions of each committee. This year, delegates heard from, among others, Doctor Jean Louis Etienne, renowned doctor, scientist and polar explorer who was the first French person to reach the North Pole. Speaking at the opening ceremony, Dr Etienne stated, « Any odyssey starts with boldness ; we must persevere and explore to become the perpetrators of tomorrow's world. » Dr Etienne also gave a presentation on 'Arctic Waters' to the Territorialcommittee.
Guest speaker, Mr Zisis Kozlakidis, a microbiologist specialising in virology who currently works for the International Agency for Research on Cancer / World Health Organisation (WHO), addressed the WHO committeeand spoke about the Capetown drought of 2017/18 when the city of 5 million people was just 90 days away from 'Zero Water Day.' Fortunately, a lot of rain fell in the week before the deadline day!
Mr Peter Barabas,  the Editor-in-Chief at Euronews, talked to the Historical Security Councilabout the Cyprus crisis of August 1974 when Turkey invaded the island and Mr Benedikt Kraus, a security expert at Boehringer Ingelheim (pharmaceutical products), addressed the Security Council on the subject of 'Organised crime at sea.' Mr Kraus' crisis situation was located in the Gulf of Guinea where there were 30 incidents of piracy reported in the final month of 2019.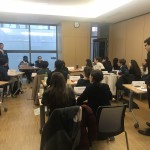 The Duby delegation had students in all of the above committees (for the complete list please see below).
Mr Rob Miller, the Head of the Anglophone Section at CSI, closed the conference with these moving words : «Think of the little steps that you can take on a daily basis : turn off the tap, turn off the light, turn off the screen BUT keep your smile ON ! It's what we share, the warmth of humanity that is important … and can save us. »
Finally, a big 'thank you' to Mme LAGET who prepared the necessary documentation and also accompanied our delegation to Lyon; also to the parents who kindly drove us to the Aix TGV station on Thursday morning andto our students who acquitted themselves very well during the conference and with their host familiies. They persevered and they explored!
David LEWIS, 04.02.20
| | | |
| --- | --- | --- |
| Delegate | Country represented | Committee |
|  Lisa AALLA | Chile | SPECIAL CONFERENCE : challenges facing small island communities |
| Chloé BOLTON | Marshall Islands | SPECIAL CONFERENCE : challenges facing small island communities |
| Hudson BYRNES | Papua New Guinea | HUMAN RIGHTS |
| Léo CHICHEPORTICHE | Israel | UN DEVELOPMENT PROGRAMME |
| Victoria DE BANK | Fashion company – not a country | ACTION ASSEMBLY |
| Zacharie DI PIETRO | Australia/Guyana/People's Republic of China | HISTORICAL SECURITY COUNCIL |
| Addis MAMO | Poland | SECURITY COUNCIL |
| Thalsa-Thiziri MEKAOUCHE | Poland | SECURITY COUNCIL |
| Léo MORENO COOPER | Australia/ Guyana/People's Republic of China | HISTORICAL SECURITY COUNCIL |
| Julien SION | Libya | WORLD HEALTH ORGANISATION |
| Gabriel SPARTALIOGLOU | Marshall Islands | ENVIRONMENTAL |
| Kiara TRINCHERO | Ecuador | ENVIRONMENTAL |
| Emie VEYRAT-COTTE | Iceland | TERRITORIAL |
| Patrick WHITE | Spain | SCIENCE & TECHNOLOGY |